Global Delivery
Alliance Global Tech offers world-class delivery capabilities, bringing together our global reach and local expertise in a 24×7 global delivery model. Leveraging privileged assets, including highly-skilled professionals with deep domain and role-based experience, we work around the clock every day to generate measurable business value for each and every client.
Alliance Global Tech delivers reliable, cost-effective and consistently high-quality services. Our delivery model drives the type of productivity, precision and predictability our clients demand. And our capabilities – including processes, methodologies, tools, analytics and metrics – help us delivery the type of continuous improvement and innovation our clients need to compete more effectively in a global economy.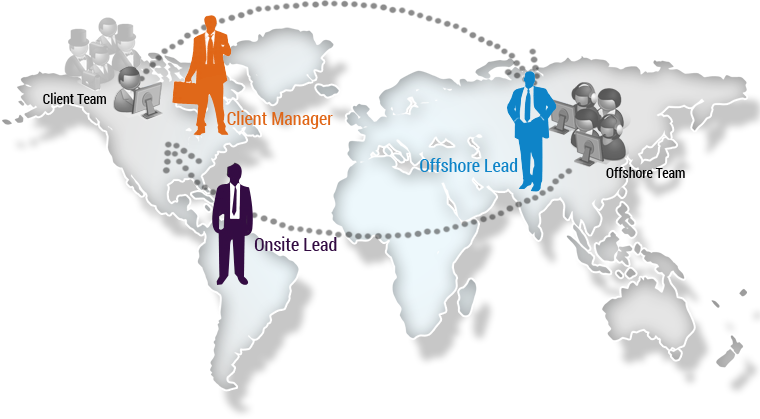 Onsite Delivery Model
In this model, consultants are deployed at the client site, working from the initial consultation until the project's completion. Representatives will have face-to-face client interaction and a clear understanding of the client's requirements and policies.
Offsite/Nearshore Delivery Model
In this model, a consultant works remotely, but resides in the same city or country as that of the client. There could be more than one onshore work site. It may also be possible that some consultants will work at the client site while others work from a remote location within the same territory.
Offshore Delivery Model
In this model, all the project tasks from the start until completion will be accomplished at one or more offshore sites using an outsourcing team. It may be recommended that project managers or delivery managers should be assigned at both the client as well as the offshore site to have better project control and manageability.
Why choose AGT
Our 24×7 recruiting and service delivery model drives time and cost out of the process (at least 10-15% cost reduction in most cases), providing you with best-fit talent on-demand – when, where and how you need it.
Save time, save money, improve your process – and get the talent you need!
For a more consultative, flexible approach to managing your specific technology requirements and meeting your need for qualified technology resources on a contract, contract-to-hire or direct hire basis, contact Alliance Global Tech.
INDUSTRIES SERVED
Our clients represent a vast array of industries but here are a few speciality areas